DVDs
Want to get all our Lean Training System DVDs at once?
Just add our Lean Training System Complete DVD Pack to your cart by clicking this link. (Note that this pack is already discounted and is not eligible for our build-a-bundle program.
Unleash the power of our Lean Training System by adding DVDs to your modules.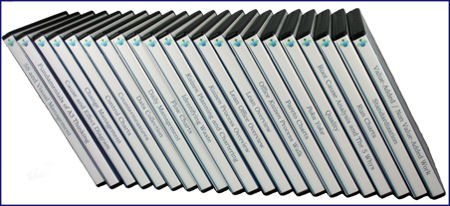 Use our Lean DVDs as:
A leader's guides to learn how to present the material
Make-up training for team members who miss your live training
Refresher training
New employee training
A way to learn new concepts on your own
The choice is yours. With the versatility of our modular Lean training system, you get just what you need, right when you need it.
Part of an Expandable System
Our Lean DVDs are just one component of our Lean training modules. Get the PowerPoint slides used in the DVD, and add a student guide to take notes. Use our training exercises to help teams learn by doing, and look up answers in our extensive Lean reference guide. However your team learns best, we have the tools to help.
Types of Lean DVDs
Lean Training on DVD. This is a fully scripted, edited, and processed version of a narrated PowerPoint presentation. Recorded with professional-grade screen capture software and high quality recording equipment, our Lean Training on DVDs adds versatility to any Lean library.
Recorded Webinar on DVD. This is a recording of a live webinar presented by Velaction. This version follows the "Better, Not Perfect" principle and lets us release content to you in a fraction of the time it takes to produce a full version of our Lean Training on DVD. Recorded in a single take, you still get great quality training--it just won't be as polished as our top-grade option.