Lego Training
Nothing beats hands on practice to reinforce important points in Lean training. Our Lean Lego® exercises do just that, all while making your training fun.
Why use Velaction's Lean Lego exercises?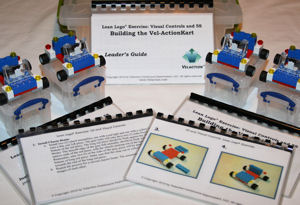 They are fun. What better way engaged people in a training exercise than making them enjoy it?
Our Lean Lego exercises are easy to use. We include everything you need in each kit. No running around gathering up components, or printing things out. Plus, we provide detailed instructions with each exercise, so you can start training right away.
They are effective. Our Lean Lego kits are developed based on years of experience. They drive home the points you are trying to make.